Watercolour painting classes
Let's present
Watercolour in

wet on wet technique
In my own practice, as well as in my painting classes, I practice watercolour in wet on wet technique, a technique that gives watercolour fluidity and free expression…
Thanks to water, we create fusion of colours and wonderful pigment mixtures… So water itself is our travel, making light appear with  the white colour of the paper…
In watercolour with wet on wet technique, each element is one of the whole…We work individually with each element to make it mug with the whole…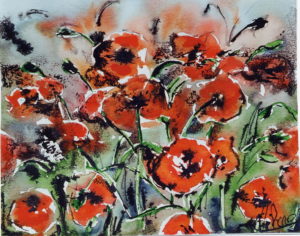 Safely and slowly, you will step out of your confort zone, to push yourself to your limit, and develop your inner skins…no way, it's worth the money…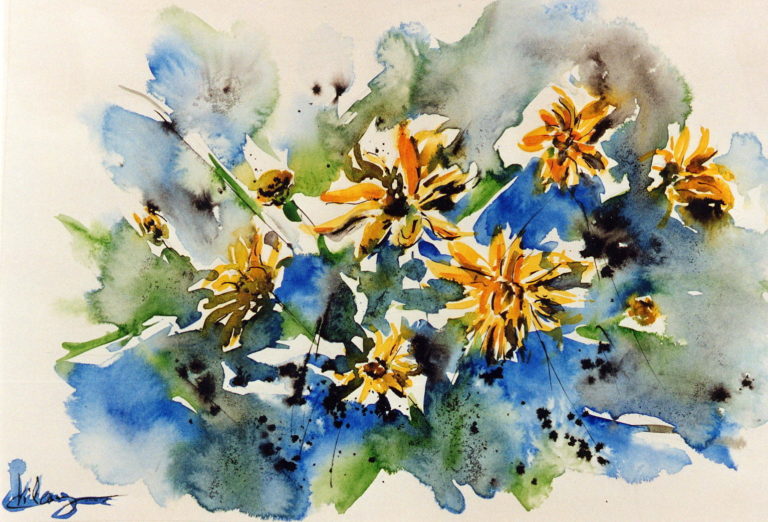 Painting activity is a good method to express one's creativity. Practicing painting is offering self worth and pleasure, forgetting one's day to day life and leave the class with increased confidence…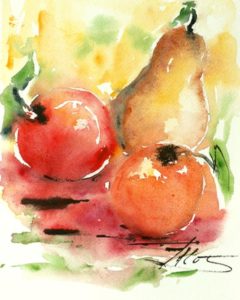 Listens to people and caring
Listening to people in taking care at their needth is essential for a good class work…that way collective activities happen in trust and goodness towards others and oneself…
Look no further...
You are at the

right place
Have a look at the advices and make sure you are the right person at the right place...
Watercolour or oil on canvas
How choose

what corresponds most
For your first painting course, how choose between water-colour and oil on canvas ?
Let me give you some principal differences to help your choice…
Watercolour is fluid and light, playing with transparancy and sweetness.
Oil paint is a thick medium, giving a solid and denser result…
Paper and brushes we use for watercolour are easy to clean and transport  and not bulky… 
Oil paint, needs a canvas and an easel to paint with, and  drying time before transport.
Unlike what people often think, oil paint is easier to practice than watercolour in wet on wet technique…
But what is most

important
What is most important is NOT difficulty of the technique, or transport, or whatever… What is most important is how you feel when looking at a water-colour painting or an oil on canvas painting… Which technique attracts you most…
Take a minute…
Close your eyes, take a deep breath…
Open them again, and look at these two paintings…
Which one touches you most ?…Which one leaves you something substantial behind ?…
Here we are…now you know ! So…?