The wet on wet technic
The Wet-on-Wet watercolour painting technique is an explosive and freeing method that strays from the traditional controlled approach to watercolour painting.
To make a watercolour painting, you need first to observe the subject, study its form; its perspective, its size, and pencil draw it on your sheet respecting the equilibrium of composition.
Study its colours, its shape, its tone, its light and shadow. Then, comes the choice of the colour pigments, the way they are mixed and the quantity of water needed to put on the sheet.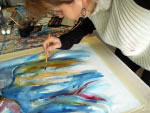 Wet the sheet taking care not to apply too much or too little water. Let the water fuse and let the watercolour-painting come alive with the magic of the wet on wet technique.
Gain a sense of one's subject, release one's emotions and one's own interpretation. One of the wonderful things about the wet on wet technique is the way the paint behaves. You are not in complete control and you can achieve some exciting results so that the painting brings to you a sense of freedom, lightness and transparency.
Anybody can do it who has never tried to paint before,
all you need is to be taught how
summer courses

Water-colour painting artist, Corinne Vilcaz invites you to have a look at her water-colour paintings in wet on wet technique.
Have a good "water-colour shipment" on this page, and dive into water-colour deep waters.
As water-colour painting artist, I let dry spaces of paper to keep the white colour into my water-colours, which gives vibration to the other colours of the water-colour painting.
One usely links water-colour with pastel colours…nevertheless, as water-colour painting artist, I do not hesitate to work my colours in a dynamic and strong intensity.