Watercolour class in Provence
Watercolour class in Forcalquier (04)

From 18th to 23rd of july 2023
Imminent departure for

the pays Provençal
The birthplace of Jean Giono, a place of unlimited inspiration for painters since Van Gogh, Cezanne, Matisse, and so many others... Provence has always attracted lovers of art and nature.
A pretty village perched on the lavender road, 20 minutes from Manosque on one side and Sisteron on the other, Forcalquier is the land of the Luberon and its Natural Park.
Like the impressionists in their time, we will discover the most beautiful Provençal landscapes, the lavender fields with their intoxicating scents, or the Provençal mas bordered by olive trees.
All levels
Find out

program
With that painting class, you will learn or confirm your watercolour technique, on site, surrounded with beautiful seascapes, and under real conditions...conditions du réel…
Sunday the 18th of  June 2023 at 06.00 Pm

A welcome drink for our first contacts and first exchanges…
FROM MONDAY TO thursday : outdors watercolour class
(except bad weather : indoors class)
From 9h30-12h30 Am -13h30-15h30 Pm
(flexibility of timing according to climatic conditions)
Wednesday call up to 2.30 Pm then free time
Friday the 23rd of June 2023
After breakfast, every body returns home…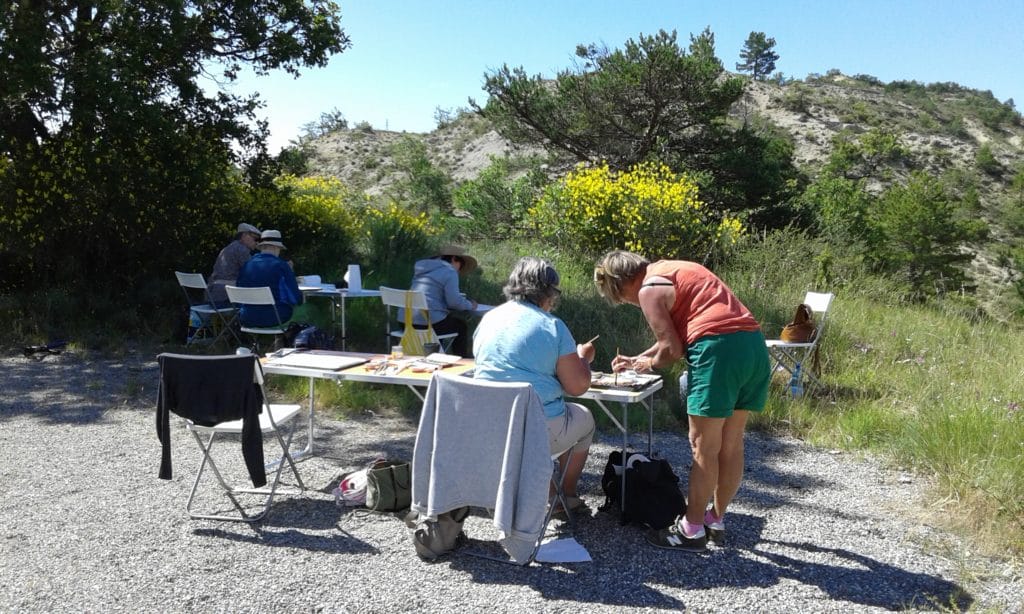 Discovery of water, learn how to channel it, how to let it go freely, a real work in wet on wet…
Learn how to mix colours, discover our large pallet and learn how to use it in the greatest variations of nuances, colours and brightness…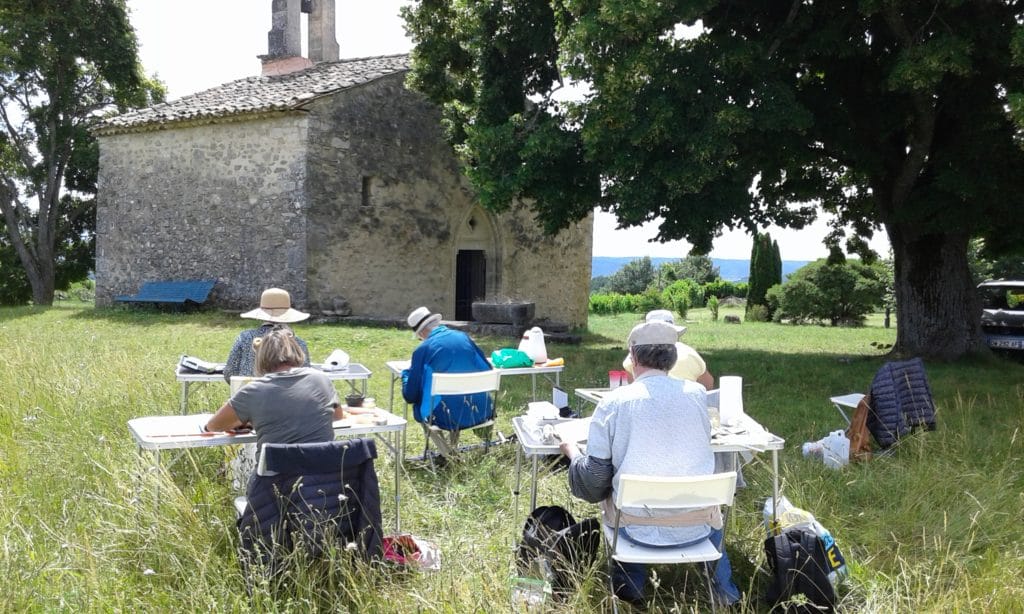 Approach of lightness in watercolour. Fluid but dynamic, with its lights and shadows. Learn how to acheive a good balanced composition, make a good initial sketch, and seize the contrasts…

As many usefull parameters to make a nice,  transparent and harmonious watercolour painting…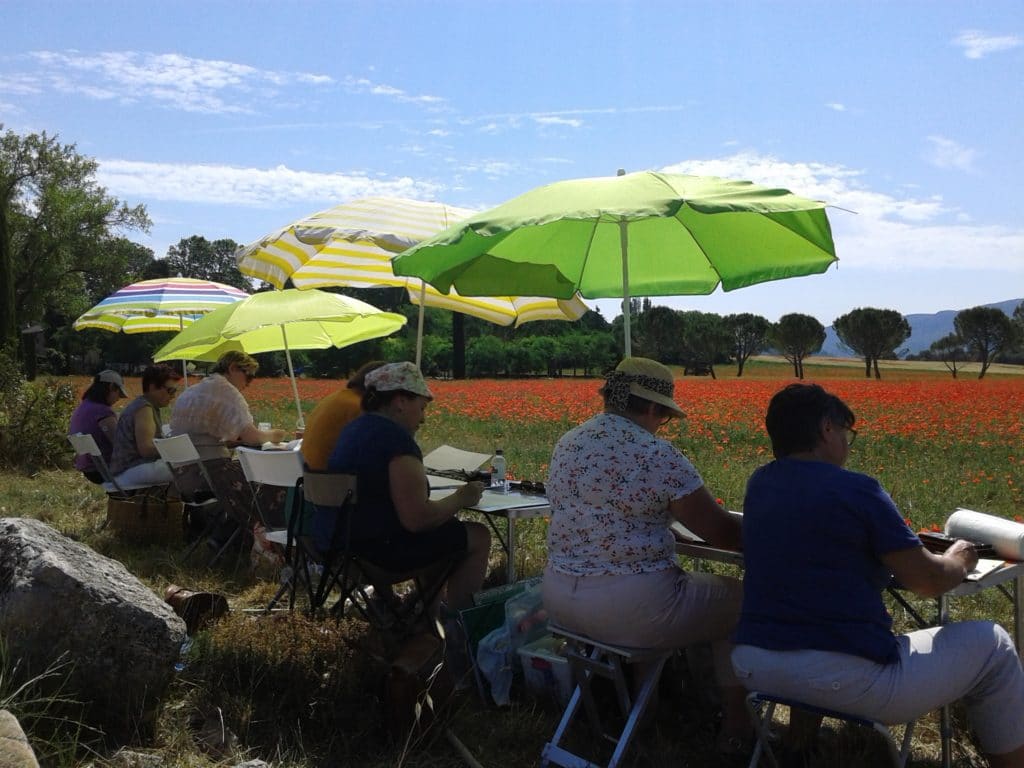 During that watercolour class, we will try to capture the beauty of a seascape, recreate its emotion, its flavour and its colours…
All along of that class, we will try to work toward that objective, in a friendly and hearty ambiance, where each one can paint at his own speed, his own level and in mutual respect…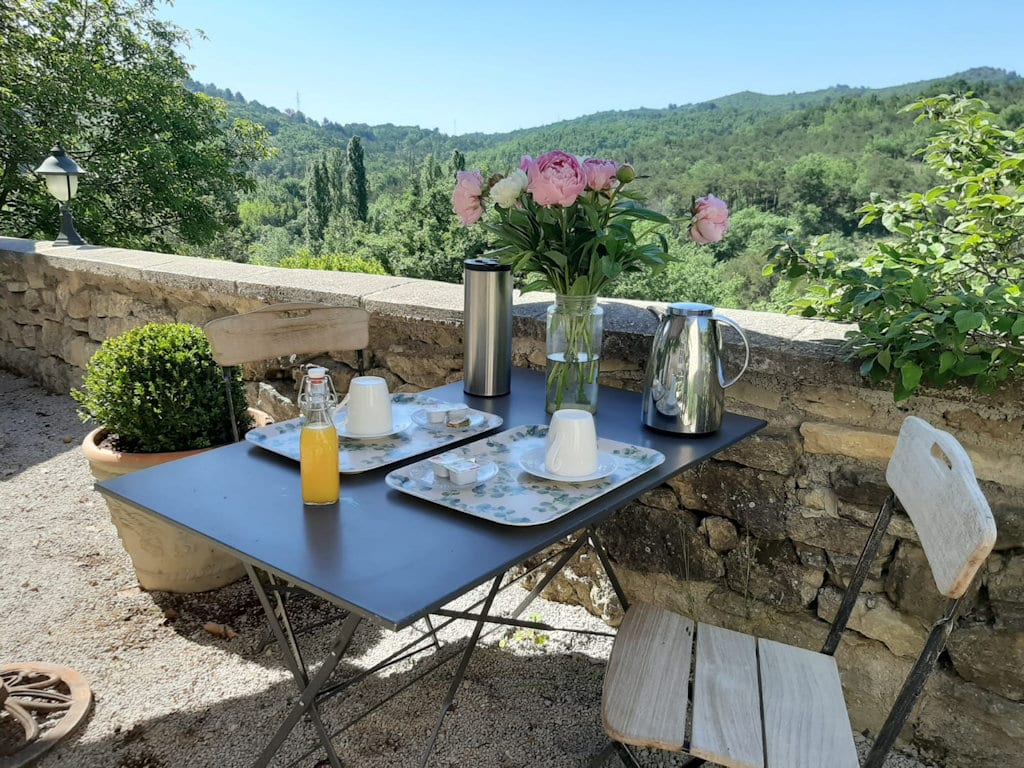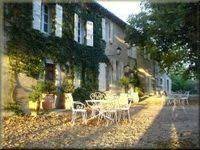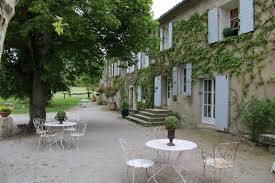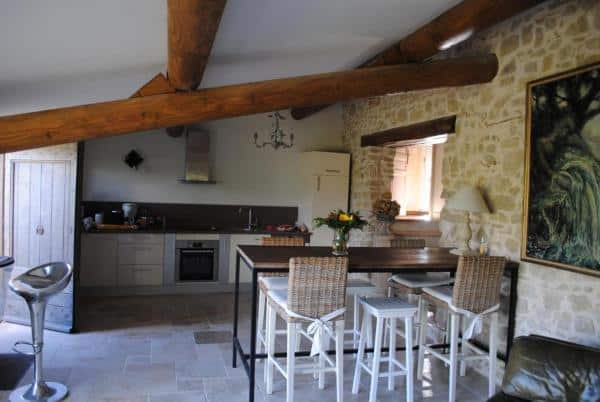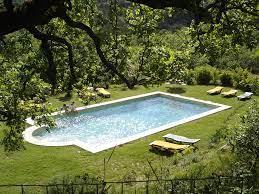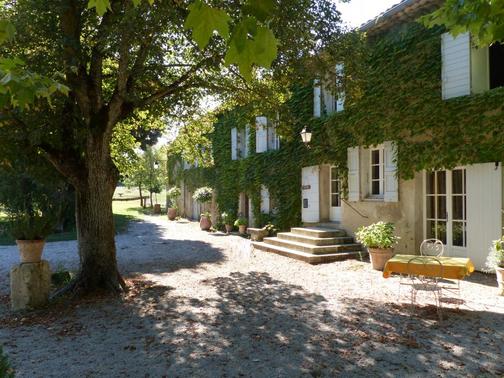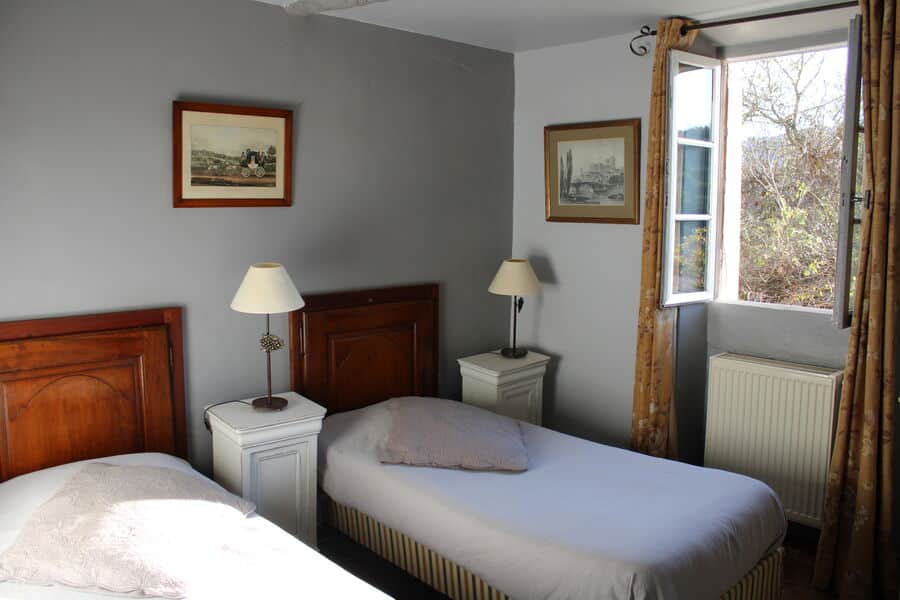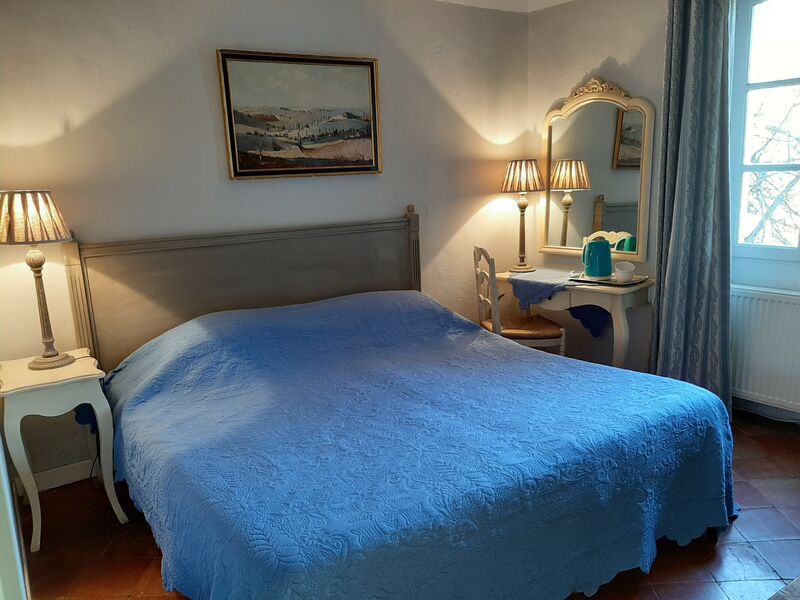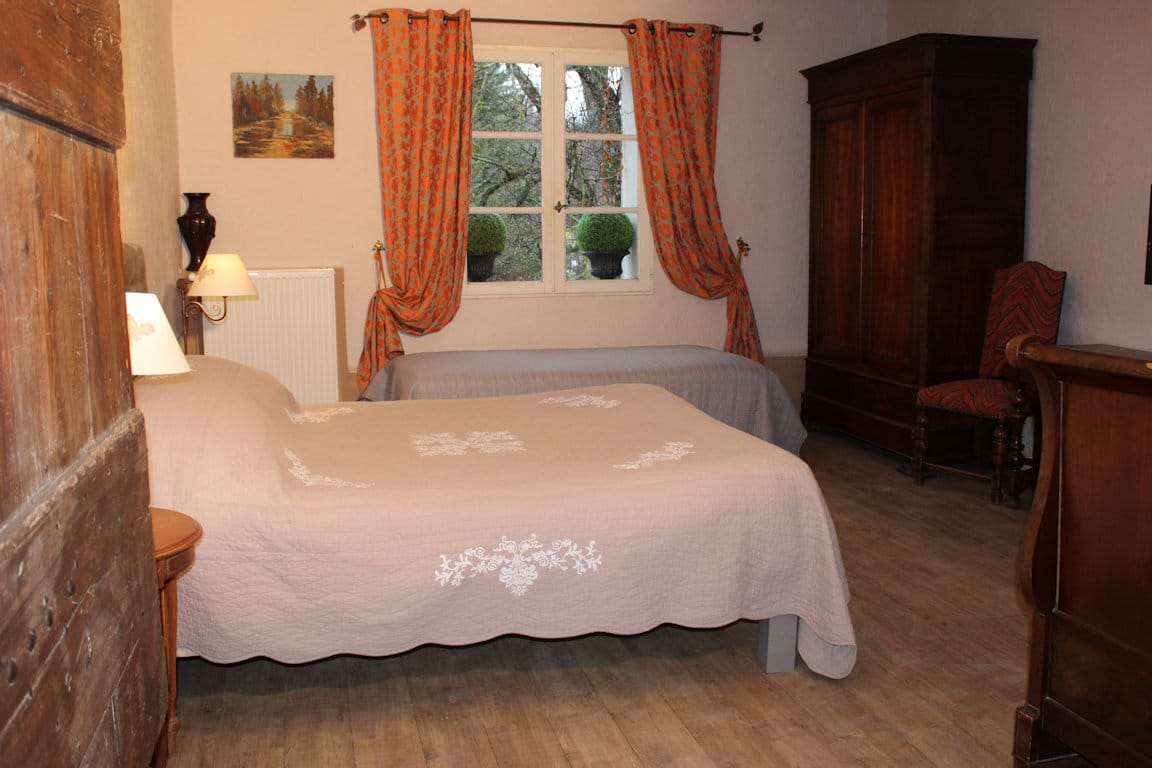 Labelled accomodation « Gites de France 3 épis»
Guest rooms

« Le Relais d'Elle »
The guest rooms "Le Relais d'Elle" will welcome you in a typically Provençal place, pleasant and spacious, with swimming pool and relaxation treatments for your well being (ayurvedic massages with essential oils and sauna to be foreseen in addition) where each one will be able to choose according to its budget to be lodged in double or simple room.
There is no doubt that you will be seduced by this Provençal farmhouse, decorated with taste and research, and where the hum of the cicadas will wake you up every morning to taste a masterly breakfast with lavender honey, rosemary and homemade jams...
Full board is provided from the evening meal on Sunday (arrival of the trainees), to Friday morning with breakfast and departure of the trainees.
The board includes 5 nights, 5 breakfasts, 5 dinners, 4 lunches and breaks during the course.
Accompanying persons are welcome and will only have to pay the boarding price (only possible for single rooms).
Translated with www.DeepL.com/Translator (free version)
Prices and

inscription
In case of cancel less than one month before the class, the balance will not be returned, except in case of medical desease (on medical certificate)
Triple bedroom
Course + full pension  : 805€
Single bedroom bed in 160 cm
Course + full pension : 1005 €
Single room bed in 140 cm
Course + full pension : 880 €
Covid19 : Repayment

conditions
In this particular sanitary situation, all payments would be returned in totality, without delay, if the class was to be cancelled by legal act (travells closed, closure of hotels, confinement...).
For the people with French banck account :


 1 French cheque of deposit of  50% of the total amount of the painting class to « L'atelier de peinture Vilcaz » Immediate bank cashinge
1 cheque of the balance of  50% to « L'atelier de peinture Vilcaz » bank cashing by the end of the class

ATELIER VILCAZ

For the people without French banck account :

Paypal payment of the total amount
or
Bank transfer of the total amount
18 Bis Chemin de massanès
47300 VILLENEUVE SUR LOT
Tel : 33 (0)5 53 41 49 69 ou 33(0)6 75 97
Before the D-Day
Of our

watercolour