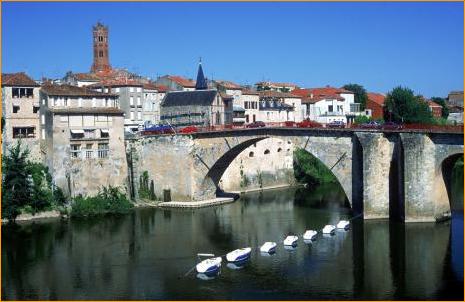 Lot et Garonne (47)
JULY : 17-18-19th of  july 2020
Setting : Villeneuve sur lot (47)
The painting studio is located at the very close city-center limit area :
From city-center : 5 mn in car. 25 mn on feet. Very close Bus stop.
Possible bike renting at the city-center transport Station.
The pretty town of Villeneuve sur lot, is ideally located in the very heart of Lot et Garonne, cradle of beautiful Medieval villages built with traditional stones and half-timberings, surrounded with large fields of sunflowers and poppies, where sun and warmth unit at the daily rythm of cicadas.
ARRIVALS :  Monday 9.30 Am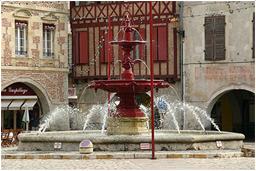 First meeting will involve technical explanations about the course itself, and the first notions of composition of forming ideas for your subject work.
THE COURSE : Time table :
Monday-Tuesday-Wednesday : studio painting
Thursday : Outside painting
TIME
From 09.30-12.30am- 1.30-3.30pm
Wednesday : Free afternoon
(Take your picnic for lunch altogether at painting place)
Last day : 4.00 pm : Little teatime to drink byebye together quit in pretty nice way…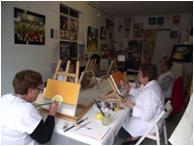 (The option for stopping during the day course at 15.30 pm is first to avoid the heat, and second, to allow you to visit the local sites, or relax by the swimming-pool)
THE COURSE : All levels are accepted

Learn how to observe and interpreate a subject in order to paint it, not the way we see it, but the way we feel it..
Learn the basic oil on painting techniques, how liquify, how get heavier matiere, learn how to mix colors, create spaces and visual levels in perfect harmony.
Lear how to make a rapid drawing, know how to feel one's subject, learn how to choose the colours and forms for the background.
Understand how to create a contemporary visual structure, and learn how create it according to each one's feeling and level.
All levels are accepted. We will respect needs and rythms of each, in a symptathetic and familiar atmosphere.
PRICE :
Retreat : 290 euros. Out of supplies