The Art and the

Way
Wet on wet technique
To create a watercolor, you must first observe your subject carefully, study its shape, perspective and format, and then place it on your sheet of paper, respecting a balanced composition.
Study its colors, relief, light and shadow. Then comes the task of choosing the pigments, mixing them skilfully and metering the water onto the sheet.
Let the water flow over the watercolor, wet your watercolor just right, neither too much nor too little, and let the watercolor live in the magic of wet on wet.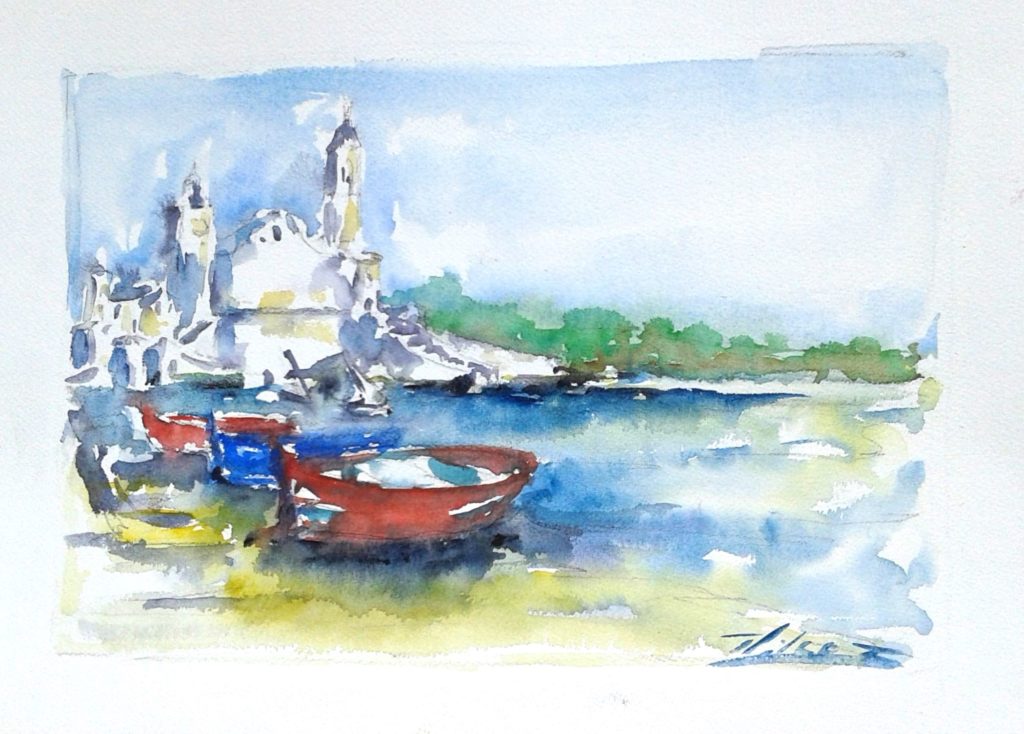 Choice of the

subject
It's important to feel the subject, to interpret it personally, to let your own emotions speak, your own language, and to let go of the technique so that watercolor becomes nothing but freedom, lightness and transparency... a whole art of manner... that expresses itself through water...
The

Light
The white of the paper is the very light of a watercolour... the very light that will make all the other colors vibrate in contrast...
Pastel or

colorfull

water-color
Watercolors are often associated with pastel colors...but as a watercolor painter, I don't hesitate to work my colors dynamically, giving my watercolors intensity, volume and brilliance.
Wet on

wet

technique
The wet-on-wet technique is the one I've been using for years, because it gives me all the freedom, fluidity and so many possibilities that I don't find in dry watercolor...
Discover the

watercolors
More works available on request
All
Floral arrangements
Seaworks
Landscapes
Characters
Contemporary watercolors
You like the style of a

contempary paintor
Have you seen his work on the Internet or in a magazine and would like some inspiration?